My Blog
By Commerce Dental Group
October 16, 2013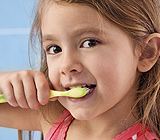 In the early 1900s, a Colorado dentist noticed many of his patients had unusual brown staining on their teeth — and little to no tooth decay. What he unknowingly observed was the power of a chemical substance in his patients' drinking water — fluoride. While commonplace today, fluoride sparked a revolution — and some controversy — in dental care during the 20th Century.
After decades of research and testing, most dentists now agree that fluoride reduces decay by interfering with the disease process. The optimum pH level for the mouth is neutral; however, this environment constantly changes as we eat, especially if we ingest foods or beverages high in acidity. A high acid level softens tooth enamel (a process called de-mineralization) and can lead to erosion if not neutralized. In addition, a thin layer of bacteria-rich plaque called biofilm that adheres to tooth surfaces is also acidic and is the cause of tooth decay, possibly more so in teeth made more susceptible from enamel erosion.
When fluoride is in "the right place" (present on the tooth surface and in our saliva, the body's natural acid neutralizer), it helps inhibit de-mineralization and aids in the re-hardening of the enamel (re-mineralization).
Although fluoride needs to come into direct contact with tooth enamel for optimum effectiveness, ingesting it can also prove beneficial. The fluoride we ingest eventually becomes deposited in bone. As bone grows and changes it releases this reserved fluoride back into the bloodstream where it eventually becomes part of saliva; the saliva brings it into contact with tooth surfaces.
The two most prominent ways we encounter fluoride are through fluoridated drinking water and in toothpaste. There continues to be concerns about what constitutes safe levels of fluoride in drinking water and over possible side effects like teeth staining and changes in bone structure. However, extensive studies have conclusively shown that even minimal levels of water fluoridation and the use of fluoride toothpaste have reduced tooth decay.
As the Colorado dentist discovered over a hundred years ago, fluoride is truly remarkable as a cavity fighter. Whether you have access to fluoridated water or not, we encourage you to use fluoride toothpaste to strengthen your teeth against decay.
If you would like more information on fluoride, please contact us or schedule an appointment for a consultation. You can also learn more about this topic by reading the Dear Doctor magazine article "Fluoride & Fluoridation in Dentistry."
By Commerce Dental Group
October 01, 2013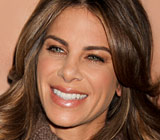 Jillian Michaels, personal trainer and star of television's The Biggest Loser isn't afraid of a tough situation — like a heart-pumping exercise routine that mixes kickboxing with a general cardio workout. But inside, she told an interviewer from Dear Doctor magazine, she's really a softie, with "a drive to be one of the good guys." In her hit TV shows, she tries to help overweight people get back to a healthy body mass. And in doing so, she comes face-to-face with the difficult issue of sleep apnea.
"When I encounter sleep apnea it is obviously weight related. It's incredibly common and affects millions of people," she says. Would it surprise you to know that it's a problem dentists encounter as well?
Sleep apnea is a type of sleep-related breathing disorder (SRBD) that's associated with being overweight, among other things. Chronic loud snoring is one symptom of this condition. A person with sleep apnea may wake 50 or more times per hour and have no memory of it. These awakenings last just long enough to allow an individual to breathe — but don't allow a deep and restful sleep. They may also lead to other serious problems, and even complications such as brain damage from lack of oxygen.
What's the dental connection? Sleep apnea can sometimes be effectively treated with an oral appliance that's available here at the dental office. The appliance, worn at night, repositions the jaw to reduce the possibility of the tongue obstructing the throat and closing the airway. If you are suffering from sleep apnea, an oral appliance may be recommended — it's a conservative treatment that's backed by substantial scientific evidence.
As Michaels says, "I tell people that [sleep apnea] is not a life sentence... It will get better with hard work and a clean diet." So listen to the trainer! If you would like more information about sleep-related breathing disorders, please contact us for a consultation. You can learn more in the Dear Doctor magazine article "Sleep Disorders and Dentistry."
By Commerce Dental Group
September 30, 2013
Welcome to the Blog of Commerce Dental Group
Whether you are an existing patient or searching for a dentist in the Commerce, GA area, we're excited you are here. With the dental industry advancing, we recognize the importance of keeping our patients and visitors up to date with all of the new and exciting things taking place in our practice.
As we move forward with our blog, we hope to promote dental awareness as a vital part of your healthy lifestyle. Here you will find a variety of articles and topics including dental news, advancements in dental technology and treatments, practical oral health advice and updates from our practice.
We hope you find our blog to be helpful, engaging and informational to ensure your best dental health.
As always, feel free to contact our office with any dental questions or concerns.
-- Commerce Dental Group
This website includes materials that are protected by copyright, or other proprietary rights. Transmission or reproduction of protected items beyond that allowed by fair use, as defined in the copyright laws, requires the written permission of the copyright owners.